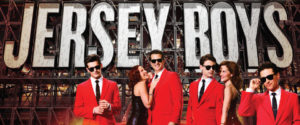 "Jersey Boys," which ended its six-day run at the Clemens Center on Sunday, didn't disappoint Broadway fans or area businesses.
The Clemens Center sold more than 10,000 tickets for the eight performances of the show, according to Executive Director Thomas Weidemann.
That makes "Jersey Boys" — based on the story of popular musical group Frankie Valli and the Four Seasons — the best-selling show in the center's history, Weidemann said.
"It's been a fantastic performance. It broke all of our records and it's just been a resounding success," he said. "The audience response from throughout the region and as far away as Connecticut proves our investment — as far as expanding the stage so we could bring in shows like this — was worthwhile.
"In a community the size of ours with a population as big as ours, that is phenomenal," Weidemann said.
"Jersey Boys" is the third touring musical to have an eight-show run at the Clemens Center since the theater opened in 1976. The others were "Mamma Mia!" in 2008 and "Riverdance" in 2003.
The Clemens Center sold 9,000 tickets for "Mamma Mia!," Weidemann said.
The popularity of "Jersey Boys" provided a boost for some downtown Elmira businesses as well.
"We were busy every day of the show. We saw a lot of new faces," said Dennis Woo, manager of the nearby Beijing Gardens Chinese restaurant. "We had performers from the show, and also crew members. They were here almost every day. It was great."
Business was also brisk at Main Street Cafe, where a lot of customers who came in were Clemens Center patrons, said cafe Manager Angelina Guglielmo.
"Saturday we really had double the business we usually have," Guglielmo said. "It also helped that Wine on Ice was this weekend (at First Arena), but with the 'Jersey Boys,' everybody who came was excited to see it. We also had some of the stage workers in here."
The Clemens Center paid nearly a half-million dollars to bring "Jersey Boys" to Elmira, but ticket sales easily covered that expense and then some, Weidemann said. Some people even came back to watch the show a second time, he added.
The robust turnout will also help the Clemens Center make a strong case when it tries to book other big shows in the future.
"It's always a challenge. We're at the mercy of what is touring and available in markets our size," Weidemann said. "We'll be working with our partners and we are still taking a look at what will be available next year. (This performance) does solidify our reputation."
Follow Jeff Murray on Twitter @SGJeffMurray.