HOW MUCH ARE SEASON TICKETS?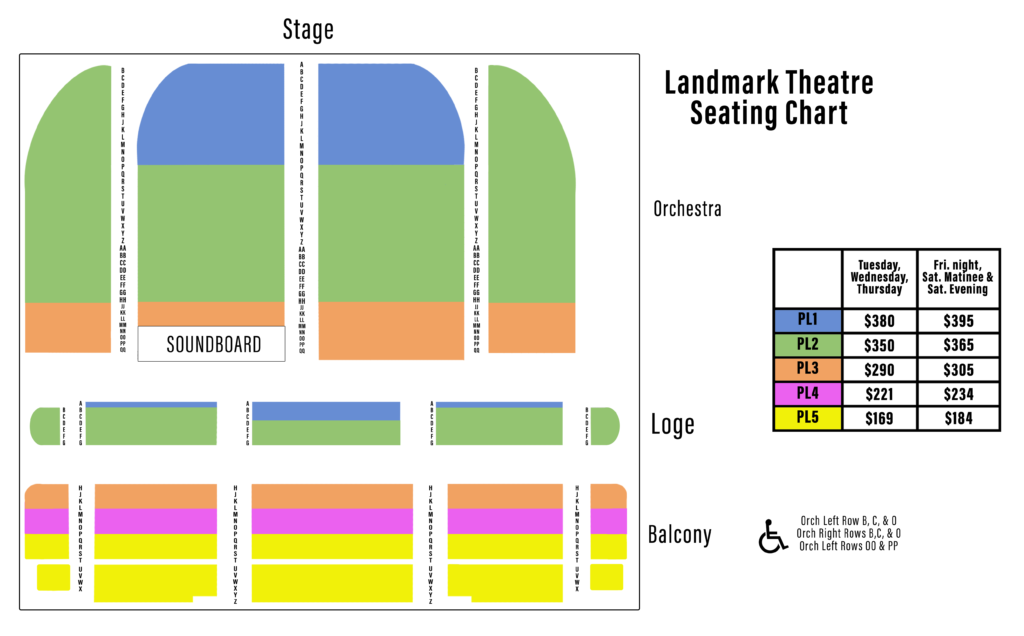 WHEN WILL I RECEIVE MY TICKETS?
Season ticket packages will be mailed out in September of 2021.
WHEN WILL I BE ABLE TO PURCHASE ADDITIONAL TICKETS TO PERFORMANCES?
Season Ticket Holders will have the opportunity to purchase additional tickets before the public at a later date. We will inform you of the on sale date and pricing.
EXCHANGE TICKETS
If you cannot attend a performance, as a Season Ticket Holder you can exchange your tickets for another performance of the same show. Exchanges are subject to availability and certain restrictions or conditions. Tickets must be received back in our office in order to exchange BEFORE the day that is printed on your tickets. Additional charges incurred by the exchange request will be charged to your credit card upon processing of the request (for example, higher Ticket prices for more favorable seating sections or moving to a higher priced performance). No refunds will be issued in the case of exchanges to a lower priced location or performance than your usual Subscription seats.
LOST TICKETS (Season Ticket Holders Only)
In the case of lost or stolen Tickets, we will issue you a seating location pass for the same performance day and seats.  The location pass will be held at the box office for pick up one hour prior to performance time. The location pass will not be mailed or emailed. Proper ID will be required at time of pick up and must match the name on the Account.
WHAT ARE THE DATES FOR SEASON TICKETS?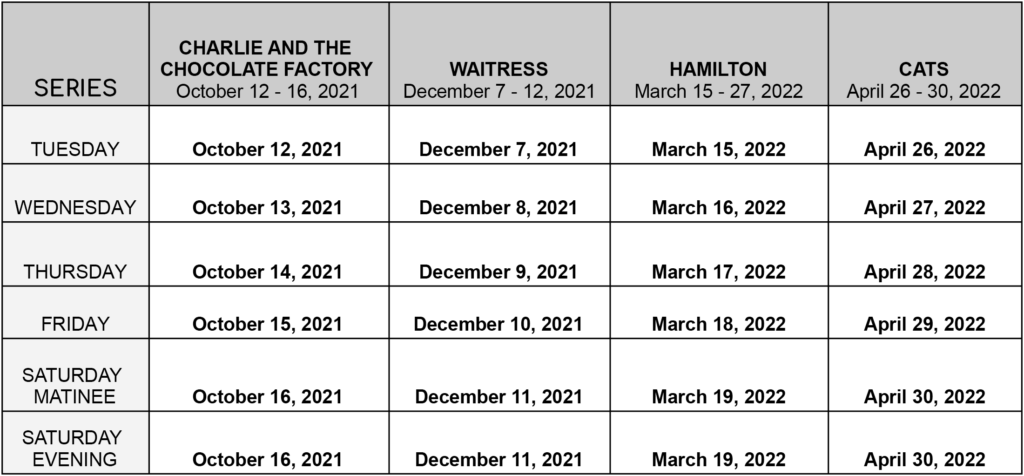 WHEN DO INDIVIDUAL TICKETS GO ON SALE?
WHAT ARE THE DATES FOR THE SHOWS?
CHARLIE & THE CHOCOLATE FACTORY

 · October 12-16, 2021

WAITRESS

 · December 7-12, 2021

BLUE MAN GROUP

 · February 24-27, 2022

HAMILTON

 · March 15-27, 2022

RIVERDANCE

· April 5-7, 2022

CATS · April 26-30, 2022
WHAT IF THERE ARE CHANGES TO THE DATES OR SHOWS?
We recognize that challenges and changes may continue to arise within our industry. If changes are to occur, you will be notified as soon as possible with information and options. We promise to make accommodations as necessary to the best of our ability. Make sure to watch your email to stay up to date.
WHAT WILL FAMOUS ARTISTS BE DOING TO ENSURE THE SAFETY OF PATRONS?
The health and safety of our patrons, performers and staff are our top priority. We await governmental guidance on large-gatherings and will follow the regulations and recommendations of the CDC and State of New York. We are working with the theatre and as soon as our plans are solidified, we will share them with you.
HOW CAN I SUPPORT THE LANDMARK THEATRE?
WHAT IS "ADA SEATING?"
ADA seating includes patrons in wheelchairs who will be viewing the performance from their wheelchair, and patrons who have a hearing impairment and require an interpreter. The Box Office has specific seating reserved for both of these situations, which can be purchased in person at the Box Office.
WHAT IF I WANT TO REQUEST AN AISLE SEAT?
The easiest way to request an aisle seat is to purchase the tickets in person at the Box Office. You can also request aisle seats by calling Ticketmaster at 800-745-3000 and saying 'operator' to talk to one of its customer service representatives.
WHY AREN'T MY SEATS NEXT TO EACH OTHER?
Most theaters have odd number seating on the left and even number seating on the right hand side.
WHY ARE TICKET PRICES DIFFERENT AT THE BOX OFFICE THAN WHAT TICKETMASTER GAVE ME?
The prices at the Box Office are the true total price. Ticketmaster adds its own fees when you purchase tickets through them. You can avoid Ticketmaster fees by purchasing your ticket at the Box Office.
Disclaimer:
Due to the nature of theatrical bookings, shows, dates, times and prices are subject to change